Inauguration of RBX building: first step in industrial modernisation plan for Saint-Médard-en-Jalles site
As part of the modernisation plan for its Nouvelle-Aquitaine site, on 1st September 2017, ROXEL France inaugurated its new office building.
This building, located close to the composite and homogeneous grain production units, will accommodate the production, quality, industrial safety, environment, logistics, methods, industrialisation, technical and programme teams. The objective is to optimise internal workflows to improve product quality and speed up customer service.
Main characteristics:
· Two-story building, total surface area 2,000m²
· Building complies with standard RT2012: energy performance and comfort
· Convivial offices to improve working conditions for more than 100 people
· Work lasted almost 15 months (from May 2016 to August 2017)
· €4m invested in building construction, interiors in line with pyrotechnical and environmental standards, and secure data centre
The RBX building will soon be followed by construction of composite grain production facilities (structure preparation, mixing, casting and finishing). The future propellant grain production units will be built within the existing site boundaries. They will replace workshops that are no longer up to date, will feature the latest production line technologies and will meet all environmental standards.
Roxel France employs around 230 people at Saint-Médard en Jalles.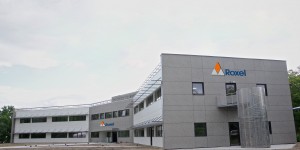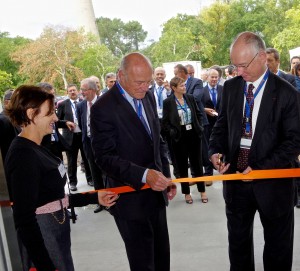 From left to right: Sophie-Anne Magdeleine (General Secretary, Roxel Group), Alain Rousset (President of Nouvelle-Aquitaine Region), Jacques Desclaux (Roxel Group CEO)